Christmas is almost upon us and the amazing printing elves are working around the clock to get your tees printed and out to you as quickly as possible. Other than international orders, which are out of my control with customs, all American orders placed before the 10th of December should arrive in time for Christmas. Please note, any orders placed after this date will likely be printed in January. Thanks for supporting my art and helping me support my family this past year! - Your friendly, neighborhood designer friend Matt
Pauly Shore Fighter – Biodome vs In the Army Now T-Shirt
Pauly Shore Fighter – Biodome vs In the Army Now design pays homage to all of the best Pauly Shore Movies. Can you name them all?
Designed alongside my buddy Bolt from the Blue, the Fighter Series collection features your favourite actors and movies. If there is something you would really like in that collection head on over to Instagram and let us know.
About In the Army Now
Pauly Shore stars as Pvt. Jack Kaufman in the 1994 comedy movie "In the Army Now." The film follows Kaufman and his best friend, Pvt. Richard "Rabbit" Brown (played by comedian Andy Dick), as they join the Army Reserve as a way to escape their dead-end jobs. They find themselves in over their heads when they are sent to Libya for a training exercise that turns into a real-life conflict getting water. Shore is known for his iconic comedic acting and his role in the film is in line with that. The movie received mostly negative reviews and did not perform well at the box office. I personally watched it for the first time at University and was pleasantly surprised that it starred Lori Petty, who I loved in the movie Tank Girl. It wasn't Pauly's best movie but I gotta admit I still enjoyed it.
About Bio-Dome
Pauly Shore stars as Pauly Franklin in the 1996 comedy film "Bio-Dome." The movie follows Pauly and his best friend, Bud Macintosh (played by Stephen Baldwin), as they accidentally become trapped inside a bio-dome ecosystem for a year, with a group of environmental scientists. The film is known for its slapstick stoner humor and Pauly Shore's character has some awesome one-liners like "Free the Mahi Mahi" and "Viva Las Bio-Dome". Throughout the movie, Pauly and Bud's antics clash with the scientists' serious work, leading to them being seen as chaos theory. I was given this movie on DVD for my 18th birthday by my brother. I loved the fact that Tenacious D made a sneaky appearance (their first time on screen together) and the Safety Dance scene is up there as one of my favourites in Pauly Shore's movie back catalogue.
One Shirt to Rule Them All! – About My Tees
When choosing which shirt type to sell, I knew I only wanted the best quality for you guys. I spent months trying dozens of shirts out before finally finding the perfect tee. Imagine me dressed up as Goldilocks, surrounded by shirts and suddenly screaming "This one is juuusssst right!".
The perfect T-shirt is a personal preference and the pressure of choosing a tee that I think you'll all love was like picking my first starter Pokémon. I went back and forth, racking my brain, considering every possibility. But that mental workout was worth it. I've finally found one shirt to rule them all!
I've opted for a 100% premium ringspun cotton tee with a tailored fit. The sort of tee to suit any situation, whether that be a 24-hour gaming marathon or a super serious job interview (well, maybe not every situation). Soft yet durable; these tees print great, fit great and most importantly look great! I want my designs to be as vibrant as the day you first wore them!
• 4.3 oz. 100% combed ringspun cotton (32 singles)
• Heather Grey is 90% cotton and 10% polyester
• Fabric laundered
• Set-in 1×1 baby rib collar
• Hemmed sleeves
• Side seamed
• Tear away label
Please double check your shirt size before placing your order and if in doubt size up.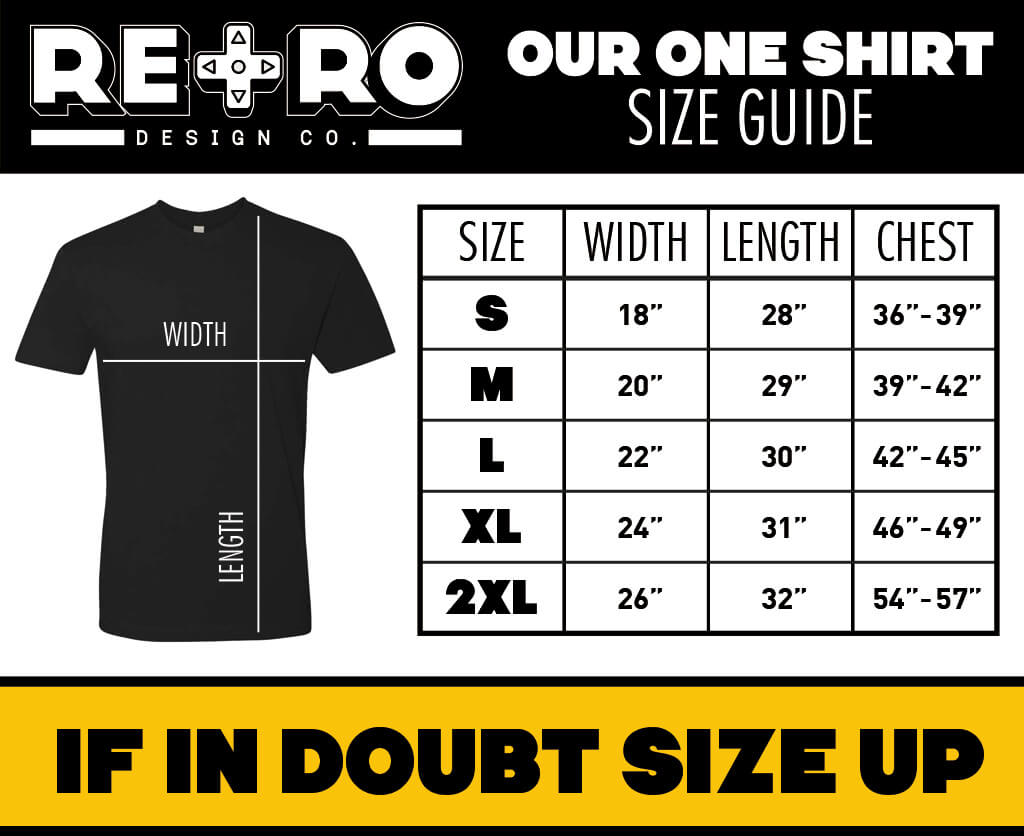 As much as I want every one of my customers to be 100% happy with their purchase, the print factory still charges me if you order the wrong size. Due to this there are limitations on my Returns policy.
"Free" U.S. Shipping on All T-Shirts & Hats!
Unlike big foot, who I am pretty sure I saw in a night club in Berlin once, there is no such thing as free shipping. Why the hell am I telling you this?
Well, if you're here to buy my merch, you're one of the family… and you don't lie to family! The reason I chose free shipping for my website, is because the awesome guys that print my tees offer a flat shipping rate (for US Postal Service First Class). I included it in the shirt price so you don't have any nasty surprises at the checkout.
Each T-shirt is made to order in our factory in Portland, Oregon. Printing is generally complete within 3 – 12 days (depending on how busy the print queue is). Please allow extra time for delivery.
Times can fluctuate due to high demand. If your order has not arrived within 14 business days, please contact me directly and I'll embark on an epic mission to track down your goods.
International Delivery Now Available
I love seeing my art all around the world!
Due to the amazing quality of my American factory, I am reluctant to use localised printers; even though they would of course get to you quicker.
Like a refreshing pint of Guinness, I think good things are worth the wait. I have added ePacket shipping options for my international customers not in the US of A.
Why ePacket? I know it was originally set up for Chinese merchants to send stuff to the US, but their shipping, unlike USPS, comes with tracking so you can see where they are in the world and the cost of shipping isn't going to massively break the bank for you guys.
I have also added a budget shipping option with no tracking, but I have found that this can be slower in some countries, so please be aware of that when selecting your shipping option.
Please Note: All deliveries outside of the US may be subject to customs delays and charges. This is completely outside of my control.