Due to a high number of orders, I am putting my store on hold until the 21st of June. Unlike big companies, each t-shirt is lovingly printed to order and quality control checked to the highest standards before leaving the print factory. When a huge fluctuation comes in from a design going viral (Thanks Samuel L. Jackson!) it can take a little longer than usual to get printed. In this particular case, the amazing printing elves (that's how I imagine them in my head) are working around the clock to get them out as quickly as possible. To help them out, I thought it would be best to give them a bit of breathing room rather than keep the orders flowing in. When we open back up, I plan on launching several new tees and dropping a cheeky 24-hour discount code on Instagram. For those of you waiting on a tee, they should be with you within 14 days of ordering and will definitely be worth the wait. Thanks for your patience and for supporting my art! - Your friendly, neighborhood designer friend Matt
Wyld Styallyns Face the Music Tour T-Shirt – Double Sided
Face the Music with this Wyld Styallyns Rock Utopia Tour t-shirt. This is part of the Parody Music Festival Collection and is inspired by Bill and Ted Face the music. This tee features some of the most iconic parody bands, can you name them all?
One Shirt to Rule Them All! – About My Tees
When choosing which shirt type to sell, I knew I only wanted the best quality for you guys. I spent months trying dozens of shirts out before finally finding the perfect tee. Imagine me dressed up as Goldilocks, surrounded by shirts and suddenly screaming "This one is juuusssst right!".
The perfect T-shirt is a personal preference and the pressure of choosing a tee that I think you'll all love was like picking my first starter Pokémon. I went back and forth, racking my brain, considering every possibility. But that mental workout was worth it. I've finally found one shirt to rule them all!
I've opted for a 100% premium ringspun cotton tee with a tailored fit. The sort of tee to suit any situation, whether that be a 24-hour gaming marathon or a super serious job interview (well, maybe not every situation). Soft yet durable; these tees print great, fit great and most importantly look great! I want my designs to be as vibrant as the day you first wore them!
• 4.3 oz. 100% combed ringspun cotton (32 singles)
• Heather Grey is 90% cotton and 10% polyester
• Fabric laundered
• Set-in 1×1 baby rib collar
• Hemmed sleeves
• Side seamed
• Tear away label
About the Bill & Ted Collection
As a HUGE Bill & Ted fan I created a range of merchandise for myself and my fans all the way back in 2013, long before Bill & Ted Face the music arrived. I reached out to Alex Winter (Bill S Preston Esquire) and sent him a tee in the post and the rest was history. From there the fantastic writer of the movie, Ed Solomon, and the legend that is Keanu Reeves rocked my t-shirt designs.
They were seen at Comic Con alongside the whole cast including Kevin Smith who was hosting the event. And then finally if that wasn't amazing enough Keanu and Alex wore them in the Van Weezer music video for Bill and Ted Face the music. This has all been a little surreal and there were times I had to pinch myself.
You can watch the music video below and see the shirts at the end. I would just like to thank every one of you for buying my designs over the years and remember Be Excellent to Each Other!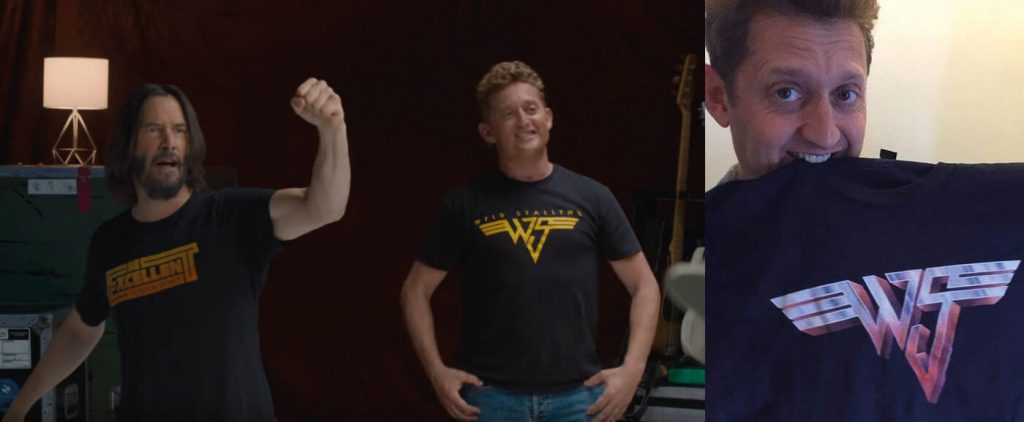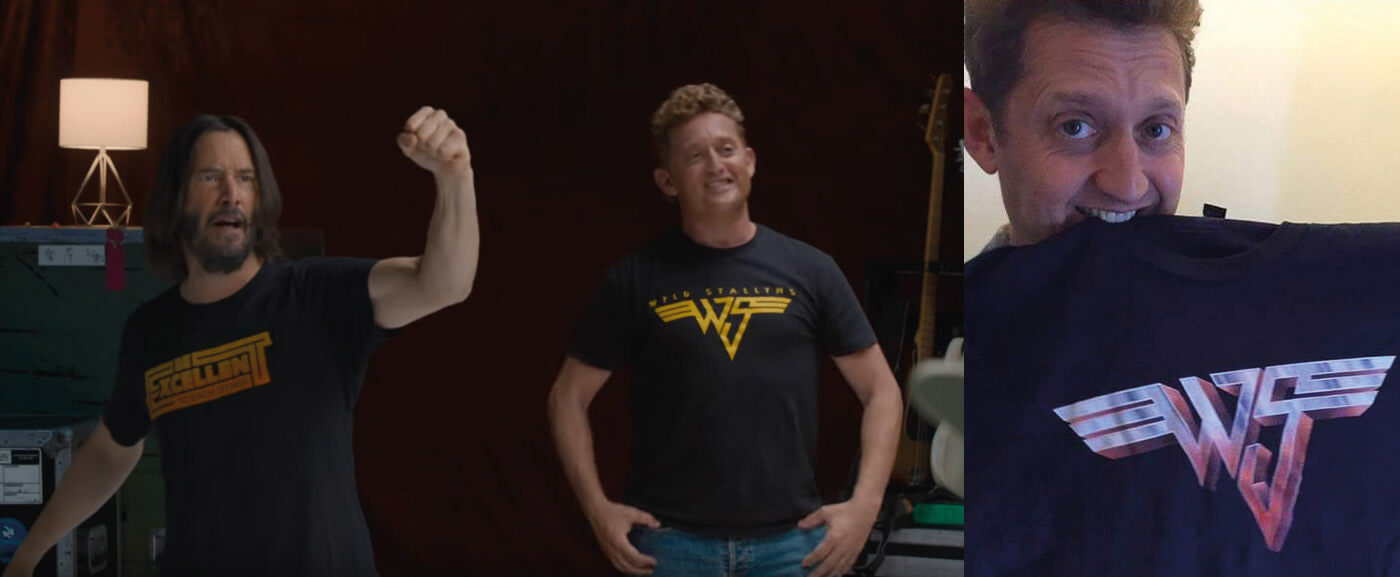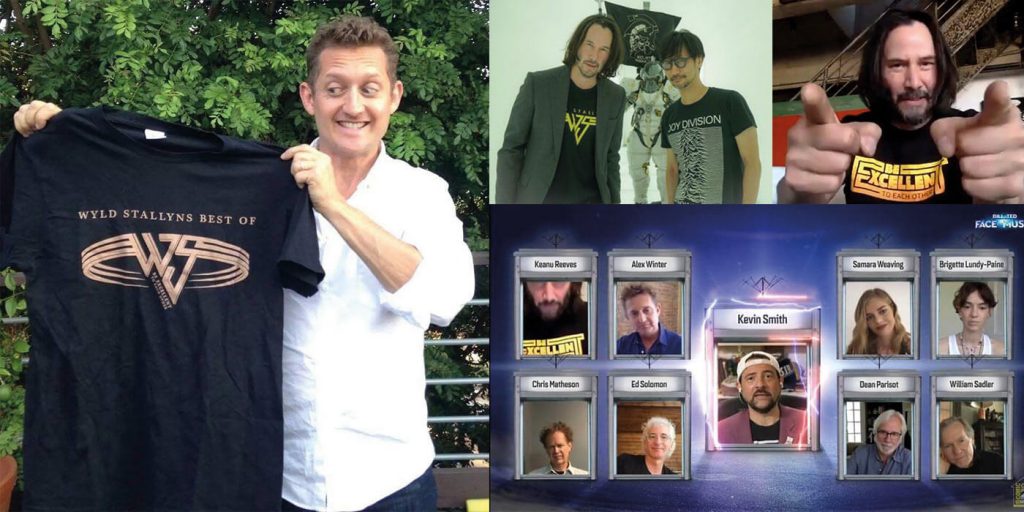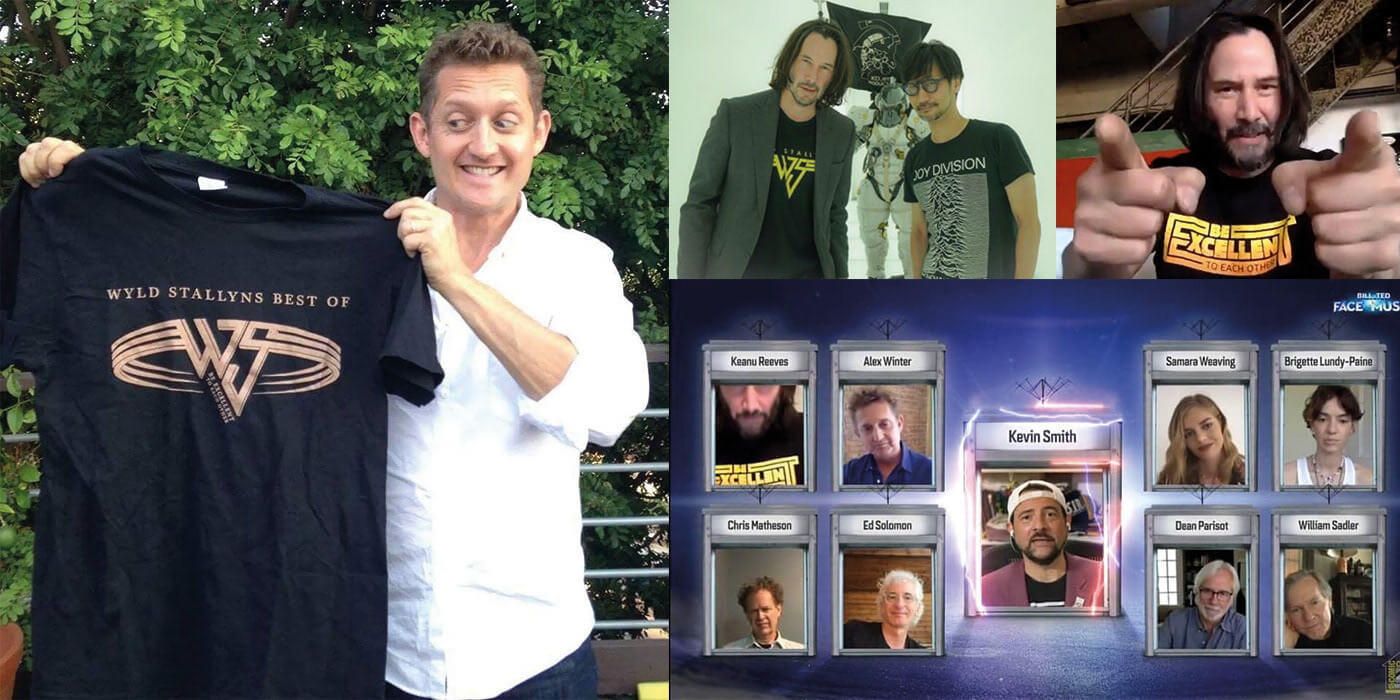 "Free" U.S. Shipping on All T-Shirts & Hats!
Unlike big foot, who I am pretty sure I saw in a night club in Berlin once, there is no such thing as free shipping. Why the hell am I telling you this?
Well, if you're here to buy my merch, you're one of the family… and you don't lie to family! The reason I chose free shipping for my website, is because the awesome guys that print my tees offer a flat shipping rate (for US Postal Service First Class). I included it in the shirt price so you don't have any nasty surprises at the checkout.
Each T-shirt is made to order. Printing is generally complete within 3 – 6 business days (not including holidays & weekends). Please allow extra time for delivery.
Times can fluctuate due to high demand. If your order has not arrived within 14 business days, please contact me directly and I'll embark on an epic mission to track down your missing goods.